Moringa tea - Vietnam Moringa
MORINGA TEA (TEA BAG) – 65.000VND/ box of 24 bag
MoriS tea is made from Moringa, Helicteres hirsuta Lour, Stevia rebaudiana.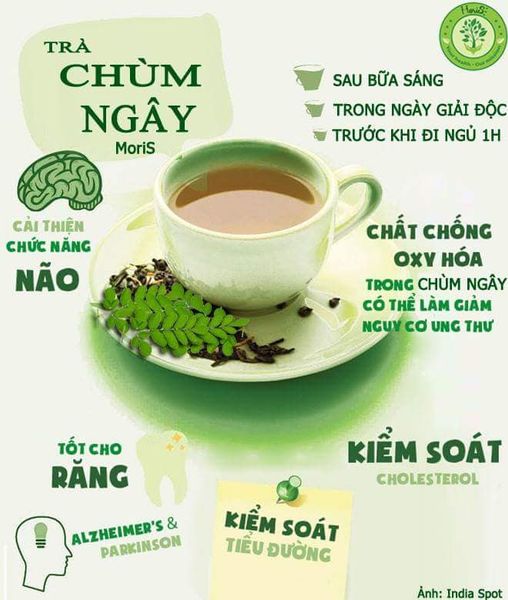 Moringa contains 46 antioxidant compounds, rich in vitamin A, vitamin C, and good for muscle, skin and blood. Active ingredients in the beam help reduce excess cholesterol, stabilize blood glucose levels, and stimulate the digestive system. In particular, the beam also helps improve the bones thanks to the abundant levels of calcium and magnesium.
Helicteres hirsuta Lour helps treat liver disease like hepatitis, liver cancer, cirrhosis, hepatocellular carcinoma, prevents accumulation of fat in the liver. Helicteres hirsuta Lour is also very good for people with weak liver.
Stevia rebaudiana is a natural sugar, very good for people with diabetes, obesity, high blood pressure. It is the choice of both Oriental Medicine and Western Medicine to combine in the healing medicine.
*Uses:
- Refreshes, supports & enhances hepatotoxicity, reduces acne.
- Prevent cancer, prevent degeneration, and boost the immune system.
- Stable blood pressure, cardiovascular, cholesterol balance.
- Make your skin more beautiful, reduce aging, and improve sleep quality.
- Suitable for people with diabetes, obesity, high blood pressure, people who drink a lot of alcohol, the elderly need to supplement.
*Instruction:
- Put the tea bag in the kettle / kettle, use enough hot water (60 - 70 ° C, 100 - 150ml).
- Wait 2-3 minutes for the tea to absorb and enjoy.
(Restricted use at night. Pregnant women should not be taken)
*Expiry date: 24 months from date of production.
*Storage: Store in cool, dry place and away from direct sunlight
*Packing: Box of 24 packages